Original Author:

Wang Chuan vs Yan Shanchun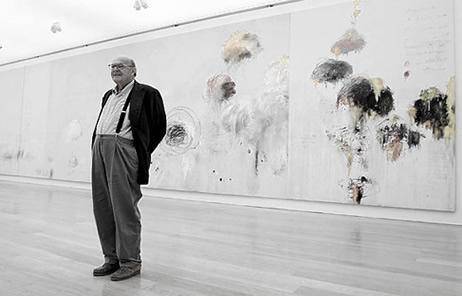 From Twombly to Boxes
Dialogue: Wang Chuan vs Yan Shanchun
Wang: Through all our thoughts and ideas, what we have talked about the most over the years has been Cy Twombly.
Yan: The first time I saw Cy Twombly's paintings was at the Hubei Institute of Fine Arts, in various foreign journals from around the year 1985. I really liked his work. He has a strange name that's hard to remember. I went to Hanart TZ Gallery in Hong Kong in 1997. Johnson Chang was preparing an exhibition about text at the time, and because it touched on connections between calligraphy and Abstract Expressionism, he bought a monograph on Twombly in America. It was from an exhibition he did at MoMA in New York in 1994. I asked if I could borrow it, and he happily agreed. After I borrowed it, it disappeared somewhere between you and Li Huasheng. That wasn't very good of me.
Wang: I first saw his paintings in a magazine at the house of a foreign teacher at Sichuan University in 1984. The magazine had seven or eight pages dedicated to comparing Chinese and Western painting. It had quite a few of Twombly's paintings, as well as paintings by Qi Baishi. It left a deep impression. I first saw one of his original paintings in 1992, at an art fair in Hong Kong. I was very impressed. I saw his permanent collection at the Philadelphia Museum of Art in 1996, and came to understand how he surpassed others. By that point, he had gone to Italy. I heard they looked down on him in New York, because his painting was too elegant, too emotional. David Diao had a very close relationship with Twombly, and carried out research on him. He told me a lot about him, and it was a great help.
Yan: Johnson Chang's monograph was quite comprehensive. It had everything he did in every medium except photography.
Wang: That monograph played an important role for me. I was so sick I didn't know how long I had left to live, and my thoughts grew very simple. I started giving all the books and art in my collection out to friends. I put Twombly's book next to me—as a friend, as well as an image—picked up my brush, dipped it in ink, and began engaging in a conversation with him on the scroll paper. I wasn't thinking about what made his paintings good, nor was I thinking about imitation and creation. I was just like a child, painting to my heart's content from one day to the next. Looking back now, this state of mind was very precious, a completely internal dialogue with no traces. As for how these works may coincide with his, that is entirely a matter for the researchers. The movements of the lines, the twists and turns, the thrusts and pauses, were completely subconscious, not connected to past knowledge at all. Everyone at the time said they were painted very well, with a resolute hand, and no traces of habit. I also felt that the certainty and purity were out of reach of most painters. This unthinking state was actually the helplessness of life. In those circumstances, I was lucky to even be able to paint in the first place. As soon as I left the hospital, my mind was filled with distractions. I would think about how the exhibition and publication were going to turn out, how people would view the work, and how well it would sell. As for the relationship between those paintings and Twombly, they are perhaps an expression of my many years of respect for him. In this day and age, it is rare for someone to be able to maintain such sensitivity in painting for so long. Of course, people need to surpass themselves. My paintings from that period have their own value. My paintings now have their own significance to the present. The key is the perspective through which you look at them. At the time, a lot of my friends felt that these paintings represented a state of criticality. In France, Chu Teh-Chun told Alice King, "Wang Chuan paints very directly, with his pure use of the line resolving all formal issues, with no excessive flourishes." His reasoning was very solid. That's because all I had was this brush, this paper, this bit of paint and ink, and this life, and it was all just right. When you have a lot of choices, you abuse them. Most everything in the painting, from the materials to the texture, is the result of choice. There is no sense of living instinct. Many painters are just greedy when it comes to materials. They have not really penetrated and catalyzed the nature of those materials. Another unexpected gain from that time was that I had a new feel for the Chinese brush, in which I discarded my old stubborn notions of Chinese brushwork, with its set of conventional strokes. As my ideas became purer and simpler, I no longer treated the Chinese brush as a Chinese brush, and then strange, magical things began to appear in the picture, things completely beyond my awareness. Li Huasheng really liked these paintings, because he was also perplexed by the Chinese brush.
Yan: What are your views on the relationship between your anxieties about life after 2000 and your painting? Was this state of "intellectual fervor" something you could continue and repeat?
Wang: When I started chemotherapy, I was in an agitated state. I was restless and constantly ranting. I painted as if my life depended on it, because otherwise I would end up berating and hurting others. But then I went into depression, and became a typical split personality case. A person's energies are generally conservative. When one aspect is used too much, another aspect has to come up and constrain it. Now that I understand this, I can deal with it in a rational way. It's about facing it, accepting it, dealing with it and letting it go. Buddhism was a great help in this regard. The year 2001 was when I was in the greatest danger. If I had gone into the hospital for chemotherapy then, I would have died there. Dejected, I followed advice from an old friend of yours, quit chemotherapy and traveled to Nepal to see the birthplace of the Buddha. A miracle happened there. Half a year later, all of my stats returned to normal. I also gained a new understanding of life and death.
Yan: Is the fear of death for you something concrete, or something specific? Do you fear the tribulations of illness, or do you fear separation from this world?
Wang: Both. Of course, after I came out of the hospital, more of my fear was the latter, and I could only dispel it through constant painting or travel. We are not monks, after all; we still cling to many things. My major insights into this came mainly during my two trips to India. The first time, I was on the banks of the Ganges. To one side of me was a group of youths having fun, eating, singing and dancing. To the other, morticians were measuring corpses to calculate how much wood they would need for cremation. These two extremes of life were placed right next to each other, with no differentiation between them. In this way, I gradually came to understand what the Buddha was saying about emptiness. Another time, I was in Kathmandu, and encountered a Taiwanese woman with leukemia. She had been there for over a decade. When she learned of my experience, she talked with me, very calmly, about the meaning of life, and about her own personal cultivation. There are people out there who have reached a high level of insight into life. I don't really remember exactly what they said to me, just their kind, serene faces. I cannot say whether these two experiences impacted my views on art, but they certainly changed my views on life, liberating my soul and allowing me to paint with ease.
Yan: A few days ago, you recommended the book In Search of Wisdom: A Monk, a Philosopher, and a Psychiatrist on What Matters Most to me. It filled me with anticipation. Cristophe André is a psychiatrist, and I think he would certainly approach things from a professional perspective. I think that, in essence, Buddhism is a type of psychology, a field of research into consciousness. Once, in Vancouver, I bought a book that discussed the state of Zen cultivation from the perspective of the nervous system. I only understood a little bit, because it was in English. It used electroencephalography to record a person's states of excitement and joy in the process of Zen meditation. It was a powerful theoretical and practical system. Our generation has been influenced by scientism. It seems every issue must be quantified to be compelling. I was surprised by Matthieu Ricard's latest book, though. It was completely different from his previous books, The Monk and the Scientist and The Monk and the Philosopher. This book mainly discussed how to overcome hoarding, how to learn to let go and to love. It was about morality, about people's concepts of the present life and their everyday actions. It didn't use new scientific research to support the "scientific nature" of Buddhism, nor did it use the kind of logic of mind found in the Shurangama Sutra. I was quite surprised.
Perhaps it is because they are all such knowledgeable people, so they did not speak from a professional perspective, but directly in terms of mind and one's sense of inclusion in the cosmos. This inclusion is quite similar to the ideas of Lao Tzu and Chuang Tzu. In the Axial Age of the sages, people had an intimate connection to nature. Desires and knowledge barriers were fewer, and the thoughts of the sages were mainly focused on inclusion with nature and with others. It is more difficult now, with so many temptations, and so much information squeezing the mind from all sides. Actually, my box encompasses a metaphor for this. The human mind is this box, and you can fill it with things, or empty it out. When it is truly empty, you realize that interaction with the outside world becomes much more fluid.
Yan: Lao Tzu compared humanity to a bellows: "It is empty, but lacks nothing. The more it moves, the more comes out of it." This, however, raises a question of the difference between knowledge and wisdom.
Wang: One European practitioner traveled to the Himalayas, and realized his friends back home wanted too much. This is a paradox. People fight to own and possess things on one hand, while fighting to be pure in front of God. True cultivators always reduce their material things to the absolute lowest limit to achieve spiritual freedom. For most people, emptiness is a concept they just cannot understand. It is the same with painting. When we have all kinds of images and materials to choose from, our thoughts run wild. When facing the canvas, this knowledge you speak of is actually a hindrance.
Yan: It is not easy to truly empty the mind and get a blank slate. Of course, it is a different case for those "mentally impaired" and amateur painters. For us, so called "emptying" is actually a rational operation, nothing more than replacing one kind of knowledge with another, a lower form of knowledge with a higher one.
Wang: There are two types of painters, those born with natural talent, and those who learned. Picasso was a natural talent. Most painters rely on knowledge when they paint. I think painting requires more experience, a kind of accumulation of skill. Qi Baishi was also that kind of painter. You have to put the brush to the page every day to feel it. If you rely on ideas, they will become a hindrance. The books and art you commonly see and read can form into an accumulation, something that can stack up onto the painting, but usually, it has no connection. Some people like to have a bit to drink so they can build up some courage before they paint. And what they paint like that really is different. It is more vivid and fluent. But painting is a lifelong endeavor. Talent and inspiration can't come every day. For the vast majority of the time, people are ordinary. Only through this ordinary activity can we awaken our inspiration. There is no other way. Drugs may give you a moment of inspiration, or hallucination, but it is a sin. Art, therefore, is a long, difficult endeavor. I went to Nepal in 2001, and encountered Tibetan Buddhism. This was a revelation. I gradually began to understand emptiness. It is very difficult to set aside preconceived notions. It's like the box I paint. It has its roots in my path of painting. There isn't any set convention at work. The audience always wants to cram something in there, and that's not necessarily a bad thing. One of them puts a TV set in there, the other a microwave. It is constantly being switched. That goes to show it is, in essence, empty. It is the same with painting. When I paint a single line, it is an affirmation as well as a negation. It could be a tree trunk, or it could be a beam in a house. For me, painting is, from beginning to end, something that unfolds between certainty and uncertainty. I don't do studies, and I don't cling to a particular form. I have always felt certain habits at work when I am painting. They may be past learning experiences, or something from a past life. Why is that? I have repeatedly compared my own lines to those of others, and have always felt that mine are unique. Is this uniqueness out of habit, or personality? From the perspective of personal cultivation, personality is, to a great extent, habit, but from the perspective of art, it also has its value. This is quite the conundrum. Various practitioners all have their own explanations for this as well. I trust that there really are distinctions between these two methods, but ultimately, they overlap. If art requires creation, then this creation should derive from your familiar life. If you are a self-cultivator, paint what you experience in your cultivation practice. If you are greedy, paint what you enjoy in your greed. If you are a nature lover, paint the beauty nature gives you. Otherwise, whatever you paint will be dry and dull. Simply put, it is as Li Huasheng is always saying: the prerequisite for painting is sincerity. Look at Luo Zheng's facial expressions. Everything he paints comes out pure, with no embellishment.
Yan: Let's come back to Twombly. I think the reason he has been able to draw us in for so long is that he was able to naturally and freely express what he was feeling. His early works had a lot of semiotic elements, and were marked by stubborn conventional ideas, as if only this imagery could embody his style. It would appear he was feeling pressure from fashion. His later work completely did away with society, and immersed itself in his inner mind.
Wang: I think he perhaps found insight in Zen. It's just a guess on my part, one with no actual basis. We can sense he was constantly casting something aside, and this seemed to be an inner impulse, rather than a conceptual outcome. His later images were connected to the scenic elements around him. Some were things he saw outside his window, such as the boats of Venice, and various flowers and plants. His early work was a bit stiff, with everything from his lines to his shapes being rather conceptual. His late period paintings were very instinctual, with a large presence, so large that we cannot focus on individual colors or lines.
Yan: The visible form of qi is called image, and the visible form of material is called form. This quote from Yuan dynasty thinker Wang Cheng in his interpretation of Lao Tzu is particularly apt for painting. Twombly was a painter who could paint the "image of qi." Most painters can only paint "material form." Even when they paint abstract, they still end up following concrete form. When we look at Twombly's painting within the context of the "contemporary," we must take into account the question of easel painting's survival. Twombly may have also worked in sculpture and photography, but his paintings were clearly marked by the traits of easel painting that call to mind Balthus and Morandi.
Wang: Balthus and Morandi were both style-oriented artists, though of course they both painted on a very profound level that was in line with their state of life. Twombly was an open painter. He had the elegance and refinement of Italian art, as well as the vividness and directness of American art. It is quite rare to have both types of character in a single artist. Marlene Dumas marks another high point for easel painting. She has such powerful painting skills. Her dozens of skulls all have their own unique flavor. They are all quite vivid, but also present strong technique. She never enters into a state of oblivion. Twombly has a sense of transcendence, of not being mired in form and technique.
Yan: This is the relationship between "image" and "form" I just mentioned. The art of Morandi, Balthus and Dumas all feels like form, like material, rather than qi. Let's get back to talking about your painting, beginning with the 2014 painting Metaphysics No.7.
Wang: That painting was a bit unexpected. I had been writing calligraphy using Arabic numerals then, and after a month or two of that, I suddenly had the urge to paint, so I spontaneously painted this. When I finished it, I didn't think it was anything special. You liked it, so you bought it. Later on, I started to find it more interesting, and wanted to paint a few more. I painted dozens of paintings, but none felt quite like that. I showed them to Li Huasheng, and he said that the original painting was complete, painted in a unified state, while the other ones were patched together, with the essence, qi and spirit all sagging. That's just how it is with expressive abstraction. It can't be repeated, and it can't be thought through. Sometimes I feel like it's a form of bodily inertia. A month or so of practicing Arabic numeral calligraphy gave me muscle memory. That painting may have emerged subconsciously from that memory. In a later essay, you picked the painting apart down to the brushwork and structure, but it didn't feel that way at all when I painted it.
Yan: Everyone knows it is somewhat futile, even stupid, to use words to explain painting. The words can never fit with the image, especially for abstract painting. From the perspective of the painter, especially when it comes to expressive abstraction, even the painter himself can never quite grasp it. How, then, is anyone else supposed to explain it? The crux of the issue is how we judge whether a painting is good or bad. For the painter, there are perhaps two standards: process and outcome. Sometimes we feel that the process of painting is just right, but when we look a few days later, the painting is horrible. Sometimes, the process feels arduous, and we get bored with all the repeated corrections and alterations, but then we come back and look a few months later, and it looks quite good. There are, of course, times when the process feels great, and the painting comes out good, but those are rare. Once the artwork enters the exhibition space or the market, it has no more connection with the artist. For painters, the key is to convince ourselves, or, as I often joke, scare ourselves. At its root, art is about taste. It has nothing to do with right or wrong.
Wang: When someone truly enters into a painting state of mind, their mind is a blank. Their hands and eyes work in perfect harmony. The entire process is unpredictable. Sometimes the hands follow the eyes, sometimes the eyes follow the hands, but in either case, they do not fight or impede each other. But in the end, you look at it this way and that, and you make a judgment. Then other people say this and that, and you end up adjusting it according to book knowledge and fashionable dogma. In this way, barriers rise up before the mind and the eyes. On a root level, I believe process is more important than outcome. That's how it was with my paintings from around the year 2000. I couldn't think about all that at the time, and when I finished a painting, I wouldn't go back to look at it. Either it sold or it didn't. I would get the money, get treatment, and hopefully live a little longer. I didn't think one bit what people were saying about me. For a truly good painting, you can't really say exactly what makes it good. Once you start saying this brushstroke is good, or that color is good, it shows that it isn't a good painting. A truly good painting is indivisible. It's just like a good film. You don't think about it as good photography or good acting. An artwork with one good detail is not an outstanding artwork, because part of it is upstaging the rest. All of our judgments that follow will revolve around that detail. In the end, whether a painting is good or bad is a matter of seeing. Seeing and speaking are two completely different things. When we say a particular detail is good, we often extract it from the whole. That is why I doubt the value of criticism on a fundamental level. The best thing is for two or three peers to stand in front of the painting, gesturing as they speak, or even picking up a paintbrush, and destroying those things the artist thinks are "good," thus liberating their friend from his stubborn thinking. When we're together, we should criticize. It's meaningless to just say positive things. The reason we've been able to talk so much over the years is because we criticize each other. Abstract painting especially needs criticism. It leaves many things blank, and it's too easy to be swayed by your own preconceived notions. Of course, whether you listen is a different matter.
Yan: When speaking of the creative process for abstract painting, it is convenient to distinguish between warm and cold abstraction, or between conceptual and expressive.
Wang: The creative process of cold abstraction basically follows a predetermined plan, so it is hard to speak of a work's completeness. The painter has only to follow the plan. Of course, in the process of painting, there will be changes in shape and color, and certain ideas will be projected. Warm abstraction is a question of emotion. Brushstrokes are the key. In a good painting, the brushstrokes definitely change with the emotions of the painter. Emotions cannot be controlled. Concepts can. For this type of painting, we must face the canvas and the material, forgetting ourselves and entering into a direct dialogue with them. There can be no third party.
Yan: It is very important to forget yourself.
Wang: Right. You have to empty yourself, and fill yourself at the same time. You remove the various boxes and frames of the past one so that you can engage in dialogue with the images that suddenly emerge in the painting. Otherwise you are just speaking nonsense. It's the same with music: "Music heard so deeply that it is not heard at all, but you are the music, while the music lasts" (T.S. Eliot). When the music ends, if you end up ruminated on certain performance issues, it isn't music at all. Painting today is facing the same tragedy. The painting leaves the studio, and then it is framed, brought into the exhibition space, lit up, printed, uploaded, commented on and auctioned. It's all about packaging. It has been stripped from its relationship with the painter, and has lost its life. Speaking of Metaphysics No.7, Li Huasheng made a very good point: while we are all analyzing this painting, we cannot return to that state of union between body, mind, brush and paper. When you try to paint it again, it is scattered and sagging. Certain details may be better than the original, but overall, it's pointless.
Yan: Let's talk about your "Box" series. The image of the box seems to have a clear formal reference. As for its specific properties, each viewer probably makes their own projection.
Wang: Actually, I'm just painting the idea of a box, something empty. The human brain is like a trash can, indiscriminately absorbing and storing news, entertainment and gossip. But in the same way, this trash can be dumped out. My box is like this as well. Viewers can fill it with those notions. It can be a house, a car, a computer, a TV set or a microwave. When these paintings have been exhibited, the viewers all tell me their various perceptions, and I think they're all fine. Making a painting and viewing a painting are two different things. Once the painting is completed, I'm happy to accept all kinds of projections from the viewer, and I can also enjoy this sensation myself. It's just a different sensation from painting. Viewing a painting is an intellectual game. Painting is a game of life. Both games are necessary.
Yan: The "Boxes" series is quite similar to your early abstract paintings. It's almost geometric abstraction.
Wang: I think that for most painters in China, geometric abstraction is just about arrays of form. It is sad how little conceptual backing there is.
Yan: We have no need for probing the original doctrines behind abstract painting, but we must admit there is a difference. When we look at Medieval and Renaissance paintings, and read the treatises of Alberti and Da Vinci, we discover that the faith upon which Western painters rely differs from that of Chinese painters. We can even see how the model of the world in Plato's Timaeus influences some Western thinking, just as the Book of Changes has influenced the way Chinese see and express. In their art, there is a process of the Western cognitive model putting down roots. In the artist sketches from the time, we can see how math entered into the painting through means such as ratio and perspective. Whether in buildings, landscapes or figures, the painters conveyed these ideas through real, substantive lines, except they gradually concealed them for the "illusion" effect. Piet Mondrian appears to be an heir to this tradition. China's concepts of yin and yang and the eight trigrams have never found solid ground in painting. Even for geomancy, connected to theories of landscape painting, there is no famous painting that attests to it.
Wang: There is very little history of self-negation in Chinese painting, and it has all been quite specious. No one has ever been really serious about it.
I think that another important source for abstract painting is drawing. Drawing was not seen as an independent art form until quite some time after the Renaissance. The drawings of Raphael and Michelangelo use the repetition of lines to create the outlines of objects, as if each line is seeking a more accurate location. This alteration, even stacking of images not only records the trajectory of a painter's thoughts, but also adds to the enjoyment. These works are more open than a completed oil painting or fresco. It is like language. Some people use very decorative language, and speak fluently, but it's all meaningless cliches. Some people use very exposing language, revealing all their thought processes. Such language is often fragmentary and can jump around, but it is valuable. There is actually a similar situation in Chinese calligraphy, for instance in Yan Zhenqing's Requiem to My Nephew, in poetry of Wang Duo, and even in Wang Xizhi's Orchid Pavilion Preface. Influenced by Western modern art, there was a fad among calligraphers a few years back to include corrective marks, which increased formal shifts, but was not connected to the content. Like the early Western drawings, Requiem to My Nephew is a draft, not a completed work. It records the artist's thought process. But the alteration processes of Requiem to My Nephew and even Orchid Pavilion Preface were appreciated by the people of the time, and held up as classics. They stood as models for those who came after, who would encounter the same problems in their own writing. It is not the same for drawing. We rarely see early painters imitating the drawings of their predecessors. Famous works of calligraphy can be disseminated through stone carvings, but the dissemination of drawings was quite limited before the advent of photography. Artists could only turn to the clear black-and-white images of print art to study the modeling techniques of their predecessors.
Wang: I think there is a similar situation with ink painting.
Yang: A lot of Westerners see ink painting as the same as their watercolor painting, an incomplete artwork. But these are actually two different concepts. One is incomplete, and the other is alteration. Incompleteness is a question of taste. Alteration is a question of intent. Compared to oil painting, the process of ink painting represents a lot of serendipity, due to the nature of the materials. In fact, however, when the artist touches the brush to the paper, his intention regarding the shape and properties of the brushstroke are clear, and though more strokes will be stacked atop it, this is to complete the painting, rather than to correct, as in drawing and calligraphy. Raphael's Madonna and Child Study consists mainly of concentric circles of various sizes, with many transpositions. The lines in Michelangelo's Crucifixion with Mary and John come in bunches. He certainly started out searching for a precise outline, and after constant seeking and correction, the stacking created a relief effect. This is similar to how in Requiem to My Nephew, the artist unconsciously treated the corrections as part of the overall visual image. When we appreciate these corrections as an important component of the artwork today, a new aesthetic effect emerges. Giacometti's significance lies here as well, the only difference being that he presented his own painting process to the viewer with more certainty. This concept of "process" is more valued in abstract painting. Whether as part of the structure of the painting, or as signs, the corrections and repetitions in abstract painting take on more multiplicitous visual value. That is because, once they are removed from concrete image, they have more possibilities for joining together in arrangements with other images, and provide more room for the imagination. This is the allure of Twombly's painting.
Chinese painting doesn't have a concept of alteration, nor does it have a concept of geometry, just various states of the brush, and various levels of ink concentration. Western painters treat lines as turns in the plane, as boundaries of a world. Their lines have conceptual properties. Painting an abstract painting is one thing. It's just about points, lines, planes, colors and textures. Talking about it is another matter. No one can speak clearly about it. It's not really necessary to say whether my paintings are abstract or concrete. When I paint this box, I am just borrowing the shape of the box, an object with six or eight sides. This is very concrete, as well as very conceptual. It has nothing to do with the box as a physical container. The viewer, of course, is free to project, just as those Western viewers said. They know I used to believe in Christianity, and used to believe in Buddhism, so they think I feel that this world isn't pure, and this box is a space for refuge. This explanation is not without its merits. I also look at my own paintings with such ideas in mind. But that's not what I'm thinking at all when I paint it. A box is just a box. I focus on observing changes in the painting. When Chinese people talk about concepts of painting, it's all about the Book of Changes and fengshui. The structure of the painting is never planned out. Bada Shanren's paintings are quite rational, something close to this structure we are discussing, but it is merely a literary structure. Of course, speaking of abstraction on a purely theoretical level can only lead to a trap. Quite a few foreign painters go out into nature with paints and a canvas, and as they paint, certain outside forms enter the painting. Sometimes they paint over them, or sometimes they will add a few lines or planes, maybe some dirty colors, or even grab some leaves or dirt and stick it right on the painting. Sometimes they paint and paint, and end up painting on the frame, or even on the reverse side. Would you call this abstract or concrete painting? It is sad to cling so fast to the banner of abstract painting. A painter should shift with his surrounding environment. If you're on the steamy banks of the Ganges one day, and on the freezing shores of Iceland the next, how could you paint the same? There's no need to say definitively whether it is abstract or concrete, conceptual or expressive. I'm an emotionally-oriented painter. I walk into the studio every morning, look at what I painted the day before, and wipe away a few strokes here, add a few strokes there, and touch things up a little bit, or maybe let it sit for a few more days. As for that box, I want to break through some of the things people get tangled up on regarding Eastern and Western concepts of art. The box is a spatial structure. There are of course concepts of space in Chinese painting as well; houses in Chinese paintings require a spatial structure. Shitao's houses are actually boxes. His houses are much more generalized than those of Western artists, consisting of just a dozen or so lines, with just the right structure. It's just that he did not treat them as central features of the paintings. The boxes I'm painting now contain contradictory space and lighting. In these paintings, all of the lines take on new meaning that differs from their usual meaning in the plane or in calligraphy. Painting is a medium for surpassing the self, as well as a very safe profession, one with no danger, unlike government or business. It would be a shame to keep being scared of our own shadow in this profession. There are some paintings where I will feel they're quite good, and I want to finish them, but then a sudden urge hits me, and I paint over them. You've seen quite a few of these. I don't feel safe continuing with one particular style. Painters today have very little room for creation. They could never create a style that's totally different from everyone else's, like it was in Picasso's day. The media is highly developed, and viewers have seen it all. We must cherish that little bit of feeling we have, and not be content with the little bit we have created in the past. It's a shame to fall into a formula with painting. There are many ways to break out of these formulas. You can change an idea, or you can change materials and images. For people like us who have been painting for over fifty years, even when you randomly scribble, it carries all kinds of habits. Sometimes, you may as well ask a child or a friend to lay a few strokes on your painting. That's one way to do it. Through all our thoughts and ideas, that's all painting really amounts to, as it is with life.
One stroke after another to paint the box. One step after another to step into the box.
Yinhu Lake, Shenzhen, 2018